But this writer can be assured of one thing. Someone is inventing a story about Ironton, Kentucky- a town that was reported as having a population of nine-hundred.
Of course, Ironton no longer exists. All those living during that time and place are now deceased. I'm listing here Ironton among "Abandoned Places Of America." If one chanced to visit where once was that town, he would not sense it or its people at all.
But as Great Grandmother Sara Elizabeth Depriest Pinegar often stated: "It's just around a corner."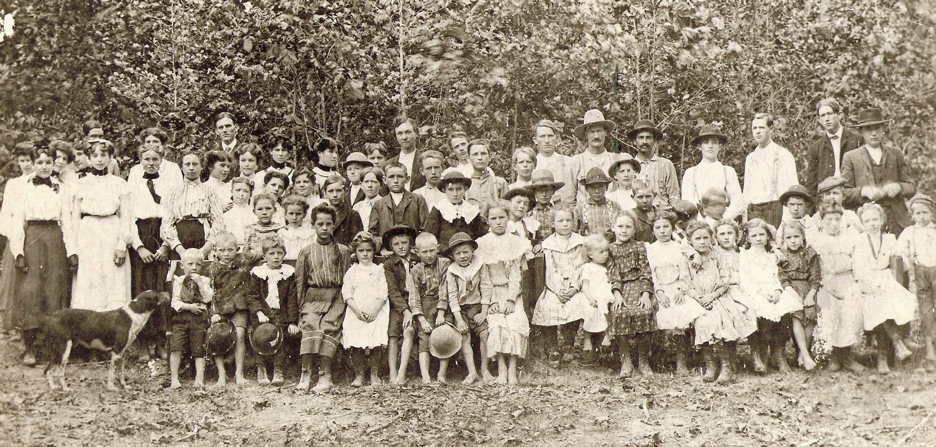 ===============================
Mark I:
The Story
We'll be moving on now. We're the Mulligans. There are five of us in one often happy family. There's my wife Nancy Emeline and me, and we have two girls and a boy. Our son, Asa is not much bigger than a fritter; eleven months old and just walking age. Ida, our oldest daughter, is seven and one-half years old. The other girl is named Trudy Jane, and she turned four last March. I'm John Mulligan, husband of Nancy and father of our children. I've been a Methodist preacher here in Ironton since 1868.
It's not likely that anybody will ever write much about this town or my family and me. I won't either. We're moving out now as are many others. People are tired of us. I've outworn my welcome. I feel that I have anyway. It's been going that way for quite some time. All the same, I'm grateful to some of the people here and The Lord for the blessings bestowed on my family and me.
It ought to be told that the work here in Ironton is nearly done. That's why people are leaving, but if anyone has what they need to stay and farm, they could. All anyone wanting to be a farmer would need to do is to get rid of tree stumps and roots. Most of the hardwood forests are gone.
Teams of horses, axes, shovels, wedges, saws, hammers, fire, sweat and tears. You'd feel ten years older after you'd made thirty acres ready to plow.
Farming is hard work. I'm not a farmer, but my daddy was. He died in a Pennsylvania wheat field, and then my mother sold the farm. Two brothers and three of my sisters moved in with Grandpa Lance Mulligan and stayed until they were of age. Then Mother ran away to St. Louis and has never returned. We've not heard from her since then.
Might as well be honest and admit it. I'm crippled as are many other men from the war. I'm missing one leg from The Battle Of Gettsyburg where I fought with The Union Army. I don't feel like I can farm. I moved here from Pennsylvania in 1870. Like a three-legged turtle, I feel weak and lame in both mind and body.
Some people will remain here close. Much of the land is cleared of timber and brush. The fire from that helped keep people warm. With wood they melted pig iron out of ore, made railroad crossties, made lumber for building, and all kinds of other things. But that's not all that was going on here in Ironton.
I wouldn't even try to convince anybody as to the truth of an experience I've had here in this area, but I do want to write it and save it. My story, I hope, won't never be read or found_ chances are; but I want to record it in words. Maybe that'll clear my mind of some of its confusion. I do have a reputation as being sane.
One cold winter day, I saddled up my horse, Old Jim Mac- a frisky paint like one that an Indian might want; yet, gentle, high-spirited, and loyal to me. Old Jim Mac was a mount I could depend on. I had saddled him up that day, and we made head toward Birmingham there on the east bank of The Tennessee River expecting to get there and back to Ironton before the last of light, the first of night. But it didn't turn out that way.
I had a Brother that worked at The Birmingham Ferry which was about four miles one-way from my church at Ironton. It was just three hours before darkness; plenty of time to get to the ferry and back home. I left Ironton and straddled that paint at a steady gallop along a wide pathway through some woods leading north to where my brother was supposed to be. I owed Brother Jessie ten dollars and wanted to pay him back before moving out of Ironton. I'd saved enough over two years to repay him, and I knew that he needed it. I also wanted to see and talk to Brother. I hadn't visited him in more than a year.