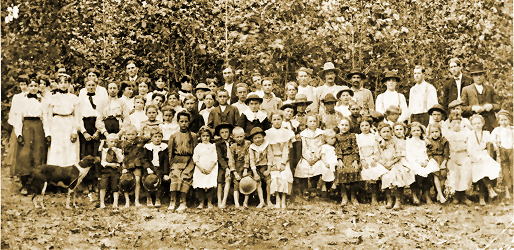 OLD IRONTON SCHOOL 1900..Trigg County
Should Carie Dell Pinegar of Route 2, Golden Pond, Kentucky have ventured onto her front porch to sweep with her home-made broom, she would have scratched her nostrils and said to Aunt Avel, Uncle Herbert, and me, "My nose will not stop itching; we'll have company today for sure."
Should she have been the first to arise; and she would always be- she would have lighted a fire in an iron kitchen stove, and it would soon be sufficiently hot for her to prepare breakfast for all in her house.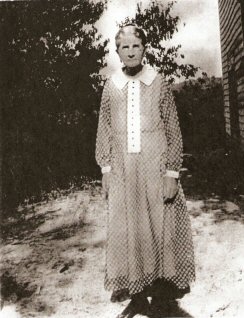 From scratch, she would kneed the dough for homemade biscuits and fried-apple tarts; perhaps a dozen of each.After these were placed on the breakfast table, she would slice a generous supply of her own hickory-smoked, sugar-cure ham and fry those in lard.

Topping off the menu were homemade butter, molasses, coffee, and eggs gathered from the hens that romped and fed all day in the yard.(Yes; there was chicken shit in many places where it was not wanted.)

Then my grandmother; Carie Dell Pinegar Fulks would turn Jack, a black and white shetlie out through a picket gate and have said softly, gently, and lovingly; "Jack- go get Trixie and the cattle, and drive them into the south pasture."

Racing happily across the gravel road and pulling a wooden latch hanging from the barnlot gate; allowing all the animals to cross that road and enter into the south pasture where they had access to hay, grass, and the water in Crooked Creek which was some three-hundred-yards south, Jack would be certain that all the animals reached pasture safely. Opening both gates and entering into pasture with Trixie and the cattle was a routine that Jack, the shetlie, performed expertly; a joy to watch.

As for Jack, the remainder of his day was leisure until the time came to turn the livestock back into the barnlot near dusk. What was leisure for Jack is commonly known as a dog's life; a series of naps and awakenings for explorations and barking "yap-yap-yap" at the coming of visitors; passing cars and trucks, horses and wagons, or pedestrians. For barking purposes and yard alerts, there might even have been a rabbit, snake, or a hawk or fox in pursuit of a hen or chick.

Born in 1889 and deceased in 1959,Carie Dell Pinegar Fulks; my grandmother; was an old-fashioned lady who strictly adhered to the hair and dress styles of those times; bonnets, long dresses, and full underskirts. Reaching far below her knees when combed, separated, and braided, it was wonder for all to watch Aunt Wilmus Avel Fulks braid Grandmother's long, blondish, hair and attach it to the top of Grandmother's head where the braids were tied and secured by rubber bands, metal combs, and different types of colored bobbypins. With this style, Carie was not only beautiful; but here hair was not a hinderance to the work and play to be done by a Kentucky, farm lady.

By her husband, Mattie Mandard Fulks, Carie Fulks had conceived and raised four children; three boys and one girl. From eldest to youngest were: my father; Rummage Ira Fulks; Seamer M. Fulks; Herbert Buford Fulks and Wilmus Avel Fulks. Delivered by mid-wife; Lennie O'brien, all of Carie's children were full-term and healthy.

That all of Carie's children were literate was demonstrated by their abilities to do reading, writing, arithmetic; the measure of educational achievement required for American citizens during those times; and their communication and social skills were qualities that made them popular with most of the people living along Jennie Ridge and the wonderful, Crooked Creek.

A close and congenial community, many social gatherings were organized through the church at Ferguson Springs; and the people residing in the area were extremely loyal to both church and country. If the truest concept of God is the presence of love; then for certain, it often manifested itself throughout the Jennie Ridge and Golden Pond area. (Sorry about the whiskey. It was, for a time- a matter of survival.)

Especially gifted in survival skills, Grandmother Carie was skilled at sewing, quilting; cooking and gardening;canning, curing of meat, and pickling; and best of all conversations and witt. Along with her witt and a speckling of superstition ; and a firm belief in God and the hereafter.

For Carie Fulks, misfortune occurred resulting from the death of her husband, Mattie Mandard Fulks; at age 38 years. Resulting in hardships for her, she was left with the responsibilities of providing a livelihood for herself until her own death in 1959.

Rummage Ira Fulks and his brother Seamer; Uncle Herbert B. Fulks and Aunt Wilmus Avel Fulks usually assisted Grandmother Carie as much as possible.

Inheriting his grandfather Henry Jackson Fulks' farm near the Tennessee River in Lyon County, the deceased Mandard Fulks is buried in the Fulks Family Cemetary at the same location as Henry's wife- Nancy Mitchell. Not far from Duncan Creek, my cousin Benjamin Pinegar has a promisary contract to maintain the cemetary, and he does an excellent job there. A small plot with less than a dozen graves, it is important to our family for reason that all of the dead sacrificed for future generations.

Always in good supply during and after the Great American Depression were eggs, homemade butter and milk, jerky and hickory-smoked-sugar-cured hams, poultry and pork; beef, fish, and wild-game. Some of those were commodities that could be traded for other goods and small amounts of cash; but it was cash that was difficult to attain for many rural Kentuckians during the hard times of those eras. Corn, garden vegetables and animal foods such as hay remained dependable crops as well as sorghum had become important crops in rural Kentucky. Depending upon horses and mules for farmwork and transportation preceded mechanization; and the plowing and tilling of land with those animals required strong and sober men and women.( As you know, that kind of work is difficult to the extent that many were too lazy to assist.)

Through the sharing of labor, food, and trading in commodities through neighborhood and area co-operative groups were helpful in easing the cash shortage during those times; and of course- there were taxes, occasional dental and medical expenses to be paid. (Diptheria was a usual fatal disease during much of the lives and times of Rummage Ira and Ella Belle Abbott/ Alice Faye Fulks.

Among Carie Fulks' hoard were several head of cattle, a dozen or more hogs, and a small horse; and they all shared the fine barn, a pasture of eighty acres, and the water and shade of Crooked Creek on Jennie ridge near Golden Pond, Kentucky. (Route 2)

Struck by a passing car on the gravel road in 1957, Jack, a shetlie is buried under the shade of a cedar tree there on the hillside facing the site where my grandmother's house stood. Born during 1940, he and I shared the same birthdate according to Grandmother; June 3, 1940. I've been so dependable as was Jack. Now sixty-eight years old, I'd like to see Jack again.

Deceased prior to my birth, Grandfather Mattie Mandard Fulks had been the owner and only mount for Trixie, the appaloosa horse. Hanging in the stall of the barn during those times was the saddle Mandard had used when riding Trixie. White with spots of black, I am certain that the horse missed its master; and one childhood dream was to saddle-up Trixie and gallop away on its back across the farm. None were known to have mounted Trixie again following Mandard's death. Turned into the barnlot at night for his protection and special feeding with its saddle drawing dust; during day it was free to graze with the cattle until its death in 1958. Both Trixie and Jack were dead; and soon would be my grandmother.

Moving with his family from Kentucky to Georgia in February-1945, WWII was still on. Transferred to Piedmont National Wildlife Refuge near Gray, my father, Rummage Ira Fulks could visit his mother in Kentucky during his thirty-day annual leave of absence. Such a joyful reunion its was; the freshest of air, a feeling of love; and its so good to see our human and animal friends again...All are brothers and sisters; having the same needs and sharing many of the same dreams; of peace and prosperity; of food, clothing,shelter, clean air and water; of opportunity and freedom.

Forced to move from the Star Lime Works area near Birmingham, Kentucky where the Henry Jackson Fulks farm had been, Carie Fulks found and purchased another farm on Crooked Creek; five miles away from Golden Pond; and in Trigg County. With assistance from her sons, Rummage and Seamer, a twenty-feet-deep cistern was dug and tightly enclosed in cement. Never known to have gone dry, the cistern made it possible for Grandmother walking the three-hundred-yards to Crooked Creek for her water supply.

During my father's annual leave and our visits with Carie, Herbert and Avel, my reunions with Jack and Trixie were joyous occasions for me.

"Trixie thinks that you are Mandard," Grandmother would say. Of course; Mattie Mandard Fulks had deceased in 1932; eight years prior to my birth.

In regard to Jack- the shetlie, she would comment: "Jack has the same birthday as you- George; and he always remembers you from your last visit." From Jack's enthusiasm, affection, and excitement, I could tell that Grandmother was correct.

Hello,Hayes,Mary Ann,Stanley,Janice

,p>Carie and Mandard Fulks

George H. Fulks..age 10

One of the most inspiring of Carie Fulks' children was her youngest son- Herbert Buford Fulks. Sharing with me his experiences of serving in the U.S. Army Artillery Brigade placed on a Naval Ship; a gunboat remnant of the First World War; but in the years 1941-42. Surprising to me is that members of the Army had been stationed aboard ship; Uncle Herbert reported that much of the time spent aboard was in very rough waters off the west coast of America and between Seattle, Washington and a Japanese held island named Adac.

Returning home to his mother in Kentucky following a year in service, Uncle Herbert reported one-hundred feet waves that nearly capsized the ship, constant seasickness making the crew unable to keep food in their stomachs, extreme cold; and not being able to sleep or stay in their sacks for reason of rough seas. "The wind would blow so hard," reported Uncle Herb, "that two or three men were blown off deck; and the waves were so high and strong that nobody could even get on deck; most of the time."

Dismissed from military service after one year, the Army claimed that Uncle Herb was both disabled and unable to adjust to the military. In fact- a large part of his disability pre-existed.

As a three-year-old at his grandfather Henry Jackson Fulks' farm, my uncle had approached a mule that was the farmwork animal from its rear and had grasped its tail. Kicking Herbert through a barnwall, my uncle remained in a coma for three days and had not been expected to survive.

Finally; regaining consciousness from the coma, his nose had been slightly flattened and never set to heal properly; and his forehead had been indented to an extent hat caused pressure on the brain. Affecting his emotional stability for the remainder of his life, Herb spent a significant portion of his life in veteran's hospitals. In fact; he deceased there as a result of liver disease.

As for my personal relations with Uncle Herbert, he and I remained the best of friends; and while in my company, he never failed to show his gentle side. Carving toys for me with his pocketknife and doing other favors for me, I was never to encounter another relative of whom I was more fond.

Able to maintain his broad-ax as sharp as a razor and to produce railroad crossties by hand, the cutting and gathering of firewood, the feeding and watering of farmanimals, trimming and yardwork, and the protection he provided for grandmother Carie and Aunt Avel are just a few of the contributions Uncle Herbert made toward assisting on the farm. (Described as a good worker, he was also able to earn cash by assisting neighboring farmers with their animals and crops.)

In my possession is a pedestal table produced by Uncle Herbert while in a veteran's hospital; and it should not be lost to the family. Should I decease, I offer this piece of furniture to my neice, Wanda Faith Hallman, as a family keepsake.

Said Uncle Herbert B. Fulks, "We never saw the Japanese but once when I served on the gunboat. A small, reconnaissance plane flew high over us. The guncrew fired several shots at the plane; but did not shoot it down." (deceased 1967..Tennessee veterans' hospital)

Herbert

Wilmus Avel

Seamer M.

Deceased during the late 1980's, my aunt Wilmus Avel Fulks was the youngest of my grandmother's children. Remaining with her mother following the death of her father- Mandard, Avel assisted with all the chores required about the house and farm. For certain is that my grandmother would not have been able to survive independently as a widow.

Among the necessary chores were canning, housekeeping, the hand-churning of sour milk for producing butter, the planting and harvesting of a garden and its care; and even pickling cucumbers, pigfeet, and making jams and jellies were some of Avel's responsibilities. Other than the lifting of heavy weights, my aunt was able to handle most work around the house and yard.

Suffering from a diabetic condition that could be controlled by dieting, Avel did not require any special medication or insulin. Taking a swallow of ginsing and vinegar each day, this was considered to be magic to my aunt.

A bright and sensitive woman, she occasionally suffered from emotional and nervous stress; perhaps due in part to the premature death of her father- Mattie Mandard Fulks.(1888-1932)

Dedicating most of her life to her mother, Aunt Avel was probably the most intelligent and best-educated of Grandmother Carie's four children. Following the death of Carie Dell Pinegar Fulks in 1959 and auction to settle estate; taking with her a few personal belongings, she moved to Alton, Illinois. Marrying a lifelong friend- Woodrow Bannister who resided in that city, she was actually honoring a promise she had made. "I'll marry you when my mama is gone-Woodrow. If I should die before she does, we'll meet in heaven."

Note: "I'm George, and I don't know that there is a paradise. I feel that living things have been cast into a kind of hell in which we devour each other. The purest of life forms are those that produce their own food. In a sense, I suspect that I believe in the purification as do some of the native American tribes."

Buried in an Alton, Illinois cemetary are both my aunt Avel and her second husband- Woodrow Bannister.

Also once married and divorced from a native American in the state of Oklahoma, Aunt Avel had lived with a John Lane and returned to Kentucky to assist her mother on the farm at Jennie Ridge."My mama really needs me, John," she had said. "You can come back to Kentucky with me, and help out on the farm. We grow good corn.

Grandmother Carie Aunt Avel Sister Euphama Jackson

Assuming a portion of responsibility for my grandmother's welfare following the death of her husband were her two eldest boys, Rummage Ira and Seamer M. Fulks. Leaving his wife and four children the farm he had inherited from Henry Jackson Fulks near Star Lime Works, Mattie Mandard Fulks had trained both his sons for farmwork. Attending school until fifth grade at Hubbard School in Lyon County, it is suspected that their attendance may have been irregular. Within a copy of a photo of the 1913 class of Hubbard School, I am not able to identify my father, Rummage Ira Fulks; but he is there somewhere.

Growing corn and hay on the farm, it was at sometime during the 1920's Rummage, Seamer, and several others became involved in the production and distribution of "moonshine whiskey; both prior to and during the Great American Depression. The discussion of this part of their lives in that area named "between the rivers" in a knowledgable manner is difficult; if not impossible for me with a June 3, 1940 birthday. Some may advise that that this chapter be omitted completely; but I have sympathy for people who couldn't buy what was needed for lack of cash. People have always done what is needed to survive.

Very little was discussed in my presence; but I was able to gather that their enterprise was profitable; that the two brothers were never apprehended or prosecuted as a result of producing and distributing "moonshine whiskey."

A few "tid-bits" to convey are that a nephew was delivering a load to a large, mid-western city; the whiskey needed for a party a group had planned. Reported to me is that Internal Revenue agents seized cash and a load of moonshine and jailed my uncle Palmer Pinegar, a son of Josie Pinegar who was Grandmother Carie Dell Pinegar Fulks' sister.

Murdered in the large city where he and his mother Josie resided for a suspected "failure to deliver on a promise;" Uncle Palmer Pinegar's murder remains unsolved and never discussed.

Carie Fulks' sister Josie returned to Kentucky later in her life and opened a restaurant and motel; and deceased in 1952.

Laws of those times stipulated that: PRODUCTION AND/OR DELIVERY OF INTOXICATING BEVERAGES IS A FEDERAL OFFENSE PUNISHABLE BY FINE AND/OR IMPRISONMENT. It was during prohibition days but here was plenty of whiskey in the United States of America; and only a small proportion was produced in and around Golden Pond, Kentucky.

Exiting western Kentucky during what may have been 1927, Carie Pinegar Fulks' two oldest sons, Rummage Ira and Seamer M traveled to Detroit, Michigan by railroad passenger service and were employed by Ford Motor Company; manufacturers of automobiles and trucks. Working on the assembly line and earning $5 for an eight hour shift. It is my understanding that during a part of their residence in Detroit, they earned overtime and that the plant was for a time in production twenty-four hours per day; both day and night shifts. Meeting his future wife while working in Michigan, my father, Rummage Ira was later married to Ella Belle Abbott, a waitress in a restaurant near the Ford Motor Plant. A native of Soldier, Kentucky, Ella's entire family had accompanied her in order to find employment in Detroit. A daughter of Bruce and May Shay Abbott, my mother's brothers and sisters were Eva, Ottie, Elbert, Kenneth, and Hilma. According to my father, his affair with mother was "love at first sight." By 1929, the nation became fully enveloped into the Great American Depression. and many Ford Motor Company worker were handed their last pay and fired. Included on the layoff list were Rummage Ira Fulks and his brother, Seamer. Departing Detroit and returning to Kentucky with little or no cash, my father boarded a railroad freightcar headed in the direction of Paducah and his mother's farm in Lyon County near the Tennessee River and Star Lime Works.(Employers would assume that amazed-surprised look when they spotted Star Lime Works as my place of birth?????? He may be an alien??? Lime??? We used that on the garden last year.) Rummage Ira Fulks had handed his future wife his final pay from Ford Motor Company to make it possible for Ella Belle Abbott to travel to Kentucky. To his mother he said,"I've met the girl I'm going to marry. She'll be here soon, Mama. I gave her every penny I had. I got jumped off the train at Paducah and had not a thing to eat for three days. I stopped at the Barnetts there in Paducah, and Darci fixed breakfast for me. I slept the whole day there and got a ride to Birmingham with the grocery store delivery truck." "I'm happy for you, Rum. We'll manage someway,"said Carie Dell Pinegar Fulks.

A trained welder, my dad's brother Seamer remained in Detroit for a time; finding employment with another manufacturer.He may have returned to Kentucky during the year 1932. Blondhaired and blue-eyed, Seamer was personality gifted and popular with most of the others he encountered. His adjustment to working outside Kentucky was completed following his enlistment and participation in World War II; and Uncle Seamer, having no children, was able to provide considerable financial aid to Carie Fulks for this reason.(His brother Rummage Ira had his wife and five children to support.

Married during what I believe to have been 1929, my father and mother conceived their first child the following year. My eldest sister, Euphama, as of January 2008 is still living. Married to Bernard L. Jackson during 1948, she conceived several boys and girls. Several of the boys who are Fulks descendants reside in the Round Oak, Georgia vicinity and all use the surname Jackson. Two of her girls with whom I am acquainted are Cheryl and Lana.

From the year 1940 through his death during the 1980's, Uncle Seamer was encountered by I, George Fulks twice; It might be truthfully stated that I did not become acquainted with Seamer. Enlisting in the U.S. Army during WWII, it is known that he participated in the D-Day Invasion and other important campaigns in Europe. A private and combat infantryman during the war, it is known that his name is recorded in the National Archives. Residing near Detroit during most of his life, he was able to earn a comfortable living and retirement despite a grammar school education.

OLD HUBBARD SCHOOL 1913..Rummage and Herbert Fulks

SEQUENTIAL INTERLUDE...for sharing of special life events shared with me by my father, Rummage Ira Fulks

While attending the Old Hubbard School during 1913, we all heard a very loud noise while we were in class. Dismissing the entire class, my teacher and all her students exited the building very quickly in order to determine the source of the noise. Pointing toward the sky, the teacher brought our attention to an airship; the first by-plane any of us had ever seen. So called an air ship during that time, it was a truly exciting event for all of us. Flying at high altitude for 1913, we could just barely see the man sitting in the seat of the airship and a sputtering noise very much like a modern, five horse power lawnmower of today. Someone later relayed to us that the bi-plane had come from Murray, Kentucky. Just six years earlier, the Wright Brothers had made their first successful flight at Kitty Hawk, North Carolina. As my father related this story to me in 1945, I was able to share with him the excitement of that flight of the airship; and how wonderful a thing it must have been for the children of that time.

"A long line had gathered near the Ford Motor Company employment office in 1926. Several had been waiting all night to keep their place in line. Needing only a certain number of hirees, I remember that I was about eighth in line. The foreman of the plant would walk down the line and choose the employees he desired. Grasping me by an arm, he simply announced "you." Entering into a nearby office, I signed the necessary papers and was placed on the assembly line almost immediately afterward.

resume...In order to clarify further what knowledge I have accumulated on the subject of Grandmother Carie Fulks, the following should be stated: My great-grandfather, Henry Jackson Fulks II married Nancy Mitchell during the latter years of the 1850's. Henry's father, Henry Jackson Fulks I had been awarded a land grant of 150 acres on the Tennessee River for service in the American Revolution. Henry Jackson Fulks I took a wife with the name, Polly Newby. Inheriting the land from his father, Henry Jackson Fulks I, his son continued to farm the 150 acres until his death in 1924. Producing at least nine sons and one daughter, Mattie Mandard Fulks, my grandfather somehow wound-up owning and farming the land.

Unknown is the exact date or year of the marriage of Mattie Mandard Fulks and Carie Dell Pinegar but 1906 would be a close calculation considering the fact that my father, Rummage Ira Fulks is included in a photograph of students in first grade at Old Hubbard School.(1913)

On the sidelines:The author of this monstrosity, George, is truly delighted by some of my readings on the subject of the Mormons in America. Of special interest for me was the help those people received from beaver in their building of a reservior to provide irrigation for very dry but soil sufficiently rich in nutrients for the growth of Idaho potatoes. When the beavers of the area learned of efforts of the early Mormons in building of a dam for storing water in large quanties to be used in irrigation, the beaver almost immediately commenced to assist them, and the dam was completd very rapidly with the help of beaver. Water from a mountain was caught and stored. Consequently, the dry land became productive. This information is included for the reason that there is some evidence that my grandmother Carie Dell Pinegar Fulks may have descended from the Mormons. Her people moved to Kentucky from Tennesse, and I have read the names of many Pinegar's who are Mormons.

. Producing four children, my grandmother Carie and Mandard Fulks were the parents of my father, Rummage Ira Fulks, Seamer and Herbert Buford Fulks, and Wilmus Avel Fulks. Rummage Ira Fulks and Ella Belle Abbott Fulks were the only members of Carie's children who produced grandchildren. Herbert Buford Fulks was never married. Uncle Seamer had an adopted child; a boy, and Aunt Avel was unable to conceive.

I, George Fulks, am the only son of Rummage Ira and Ella Belle Fulks, and I have three living sisters as of December 31, 2007. Those surving are from eldest to youngest: Euphama Fulks Jackson (b 1930); Mattie Dorcas Fulks Hallman; (b 1933)Betty Jean Fulks Garvin; (b1936) Alice Faye Fulks deceased in 1946 shortly after our movement to Piedmont National Wildlife Refuge near Round Oak, Georgia. Cause of death was either Reye's Syndrome or diptheria.(An Afro-American living near us warned our family that the well-water in the area was not suitable for drinking and advised that my dad construct a cistern and catch water from the roof of the house or either draw water from a running stream. No-one knows from where her infection originated.)

Alice Faye Fulks, a nine year old third grader at Gray Elementary School in Gray, Georgia deceased in November, 1946, and her funeral services were held at Ferguson Springs Baptist Church just a few miles from Route 2, Golden Pond, Kentucky. Buried at East End Cemetary, Cadiz, Kentucky near her mother and father and several other close relatives, her death was certainly a tramatic event during the lives and times of Rummageandella.com. My sister's kindness and display of affection toward me are behaviors that made an important difference in my life. Such a loss is, in that case, contributed by an invasion of a micro-organism, and I am not able to perceive that such a death was caused by any higher power. Those creatures are considered to be one-celled animals that feed on the organic tissue of living things.

Its construction completed by 1941, the Kentucky Dam had resulted in the impoundment of a vast area once occupied by villagers, farmers, and individuals working in various occupations. Flooded during that year was the town of Birmington, Kentucky; the marketplace for many residents of that section of Lyon County, and the Tennessee Valley Authority had purchased much of the land bordering along the river. While Grandfather Henry Jackson Fulks' farm remained dry and intact, several families were required to move if the U.S. Government desired certain parcels.

INTERLUDE:ON THE SUBJECT OF MOBILITY AND THE EUROPEAN WORK ETHIC

An important lesson in human survival was learned from the examples set by my immediate family and in particular a behavior pattern set extending from Henry Jackson Fulks I through my eldest sister, Euphama Fulks Jackson.

(1) All physically and intellectually normal members of the Fulks family and their descendants attained mobility- the ability to move from one location to another within a reasonable time. Bernard L. Jackson, sister Euphama's husband was able to travel forty miles to his place of employment, work an eight hour shift and return to his home in Round Oak, Georgia. His wife Euphama was able to travel eight miles and return home from Gray, Georgia where she was a cook in the school lunchroom. The European work ethic requires that those who are not "gentlemen" find employment and continue until retirement age. Both Euphama and Bernard both earned their retirment by this manner.

(2) Following the same as above were my sister, Mattie Dorcas Fulks Hallman and her husband, Norman Ray Hallman, worked eight hour shifts for many years, and making this possible was their mobility. While neither attained "millionaire" status, they attained sufficient security to live very comfortably. If the two should decide to fly to Europe and visit for a week or two, they would be able to do so.

(3)Brother-in-law, Marion E. Garvin and his wife Betty Jean Garvin also attained mobility; neither qualifying as "gentlemen" but able, through mobility to attain a comfortable living standard and to gain a high degree of financial security.

A "gentleman" is a man and/or his wife and family who have attained sufficient wealth that it is not necessary that they do labor. As with John Smith and the Plymouth settlement, a few of the "gentlemen" were paying others to work and were buying special food and privileges; refusing to participate through work. As we recall, during the second winter, those "gentlemen" were required to assist with the work within the colony. (or is it Jamestown?)

As we all have knowledge; through wise investment, intelligent planning, education,good fortune, judgement, and usually hard work; that "gentleman" status is within the reach of any man or woman on earth. (Coming to light recently are the stories of several child millionaires and a handful of billionaires.) Don't you feel that those should work-out in order to maintain their mental and physical conditions? Many of them do so.

Children born of Bernard L. Jackson and Euphama Fulks Jackson, Round Oak, Ga. Cheryl Faye, Bruce, Darrel, Lana, Shannon

Children born of Norman Ray Hallman and Mattie Dorcas Fulks Hallman Norman Ray Hallman,Jr. Wanda Faith Hallman Frank Hallman Mark Anthony Hallman

Children born of Marion E. Garvin and Betty Jean Fulks Garvin Teresa Genie

Children born of George H. and Hazel L. Fulks /all residing in Illinois Kristal Vannessa Fulks Durbin Poggi Jennifer Gail Fulks Finn Parish Tracy Denise Fulks Beckham

Any discussion of wealth should include a few words on the subject of my own financial achievements. Having accumulated enormous amounts of cash, I George H. Fulks, have buried most of my money in fruitjars with Mason lids. I can't recall where I've buried the cash but it's in hundreds of places. Into a discussion with my banker, related to me was: "George; your neighbors are observing you as you bury your money. They're placing your money into their savings accounts and investing part of it through Jones. You should stop placing your money in fruit jars. It's just not safe there." In response to the bankers' comments, I made a very simple statement: "Duh!"

For my grandmother Carie Dell Pinegar Fulks if you aware of my project on the subject of Route 2, Golden Pond, Kentucky: "I dedicate this work to you and your descendants. I will do the best I can. I recall much of what you said and how you behaved. If you're somehow somewhere else in a parallel world as suggestive by many of the most brillant scientists, my thoughts are very much of you."

Important to record is that twelve or more hogs and a hogpond were on the Carie Pinegar Fulks farm there near Golden Pond for reason that these are to be the subject of another story to be posted later on my site. Hand-dug by my uncle Herbert Buford Fulks, the pond was situated some seventy-five yards across the gravel road and adjacent from the barn and near a natural drainage area so none of the water in the cistern would become contaminated by the waste produced by the hogs. Copperhead and timber-rattlesnakes were often sited near that area, and as a child, I was instructed to be especially observant if walking in the area.That copperheads are hateful and agressive in their behaviors and timber-rattlers are timid and nonagressive in nature are lessons that I have learned as one who loves both nature and the "out back" areas. Those snakes will go away if one respects them, and I have learned that those reptiles have very sensitive heat-sensors and are interested only in eggs and small prey. If a human or larger animal approaches within ten feet, the heat detections raise and are lost, and so is the tract of their prey.(Grandmother needed the hogs especially for producing sugar-cured, hickory-smoked hams, and some of the meat from the hogs was pickled,pre-cooked and canned in Mason jars for use during the hardtimes of winter.

FLASHBACK

By walking three miles west from Grandmother Carie's farm, one could have fished from the banks of the beautiful, blue waters of the Tennessee River; but by 1941 Kentucky Dam had been completed and the largest manmade lake in the world had been impounded. Created by the Tennessee Valley Authority and The U.S. Corps of Engineers, even those who had lost land and forced to move were awed by its coming. Caire and her family had moved from near Birmingham, Kentucky to the farm near Golden Pond. Life there in Lyon and Trigg County was in for a change; for the Jackson Purchase Rural Electric Co-operative was begun, and slowly rural Kentuckians began to wire their homes for electricity.

Remaining dry and still intact was the Henry Jackson Fulks landgrant. Grandmother and her husband Mandard sold the land in Lyon County to the TVA and purchased 180 acres in Trigg County near Golden Pond. While at that location from 1940 until 1959, a store was five miles away and the Cumberland River lay at least three miles to their east, and important to note is that Maurie Watkin's Traveling Store visited the area once each week; usually on Wednesdays

Another great technological achievement, Barkley Dam and Lake, appeared as a result of the work of the TVA and its Corps of Engineers. The size and difficulty of the projects and the costs of those modern miracles caused the poor and the anti-socialists to shutter in their footsteps. "It's the end of our private ownership, our freedom, and our farms," thought the people; and for many of them, it was true. Such transitions as these are a matter of planning for the future and sacrificing for the nation's people; from subsistent farming to more sophisticated methods in production.

As the author of this account, I am neither friend or foe to the policies that resulted in those events. Here I sit fairly comfortably; not as a dog that would attack its master after its feeding. I, George, have continued my loyalty to my country, and so did most of those people who became misplaced. I am an American citizen, and it is my duty to support the country against its enemies.

Appearing personally for dedication of the Barkley Lake and Dam Project was President Lyndon B. Johnson during the autumn of 1965, and it was a workday for me. A few of the local Democrats had assisted me in attaining a teaching job in Livingston County, and as I entered my automobile to drive away to the highschool at which I was employed, I was able to catch a small part of his speech. Also in progress was the Viet Nam Conflict, and I had recently completed three years of military service. I watched too much of the news of that conflict on television, and I am still disturbed by the fact that our brothers and sisters feel a need to kill each other in large numbers."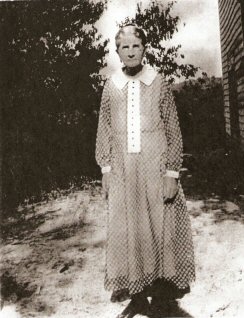 Working a farm one-half-mile east of my grandmother Carie were Bill and Eulah Holland and their two physically handicapped childrren, Bertha and Samuel. While not mentally handicapped, the two were dependents who were unable to assist with the most difficult of work on the farm. Having other children who had gained independence and moved; one was his son, Rex Holland, manager of the Kentucky Wood- lands Wildlife Refuge.
Bill Holland, a neighboring farmer, traveled five miles one way to Golden Pond by horse and wagon when necessary; for there was a well-stocked grocery store there. Fiercely anti-socialist, Bill Holland was extremely suspicious of visitors to the Jennie Ridge Area. An extremely dedicated laborer, he demonstrated that he had little use for anyone who would-not and could not do things the hard way. One who seemed to love labor and independence, he would proclaim. "You never win with them. You always lose, no matter what you do."
Tobacco, corn, poultry, oats, sorgum, pork, and cattle were some of the products of the Bill Holland farm.
Loyal friends of the Carie Fulks family, the Hollands were frequent visitors and good neighbors.Experiencing few personal encounters with Bill and his family, I am unable reord a detailed account of their attitudes or methods but I do recall that they all were extremely cordial. Bill's son, Rex played an important role in the future security of the Fulks family. It was through Rex that my father, Rummage Ira Fulks gained employment with the U.S. Fish and Wildlife Service, Department of the Interior.
Owning a large farm one-quarter-mile in the direction of the Tennessee River and toward Golden Pond were Carl Fennel, his wife, and his daughter, Dorthy Nell Fennell. Having tractor, planter, and tiller, Carl was one of the most successful farmers along Crooked Creek for reason of his mechanization. As a result, Carl and his family had at least some time for leisure. Corn, his primary crop, needed to be detasseled and picked by hand, and Uncle Herbert Buford Fulks was usually one of the men who assisted with these tasks.
Eighty acres or perhaps one-hundred on the Carie Fulks farm were sharecropped with Carl Fennell. Carl was most certainly a patient and kind man and was able to handle the stress of living in an area where some of the area youth suffered from loss of ambition and had basically lost hope of ever escaping poverty and hardship. His attitude made it possible for him to sell his land to the TVA and to move from Route 2, Golden Pond to another farm in Callaway County when forced to do so. All had a good opinion of Carl Fennel and his family and were resigned to watch him succeed without working so hard. "Well- we can't do that well." people would say." Those could have done better but didn't try.
The common term "puppy-love" would not accurately describe the emotional state associated with my having met Carl's daughter, Dorthy Nell Fennell. Here was one seven year old boy captured immediately by her beautiful,dark hair and eyes and absolutely gifted personality; I loving each and every bit of her. She had knowlege of that fact and that was the spoiler. Each and everytime, the Fulks family visited Kentucky, my Aunt Avel taunted me in that knowledge, and Dorthy Nell and family had decided early that I wouldn't be her husband. There's a true heartbreak among many others that followed."You'll never a man, George. You'll always be just a little boy."
Retrieving the year 1929 and propelling it warp speed for viewing in the year 2008..When in his early twenties, my father, Rummage Ira Fulks, worked and resided on the farm owned by Henry Jackson Fulks II, and he was a frequent visitor to the Jennie Ridge area; the future home of Carie Fulks. Traveling in an older model Cheverolet from which the doors and top had been removed, it was darkness and my dad Rummage Ira Fulks was enroute to visit Carl Fennell. Dad's brakes failed on the old Chevy at forty mph. In order to avoid crashing directly into the Fennel residence located at the bottom of a hill from a probable 60 degree incline, it became necessary that my dad negotiate a complete 90 degree turn to the left. Attaining fifty mph with the help of no brakes, he attempted a left turn onto the gravel road that led east. Penetrating a stock fence to the left of the Fennels house and overturning within a drainage ditch, my dad was thrown clear of his vehicle and uninjured. Sleeping the remainder of that night at the Fennel's house, I've always tried to imagine what conversation might have occurred immediately following that incident. Listening to my dad share that story would senda shiver up by spine.In sharing that incident, his exact words were: "I was lucky I wasn't killed or injured there. I'll recover that car someday and overhaul it." That never happened but for all of us, that overturned vehicle in a drainage ditch remained as a landmark symbolic of a wild and previous era in the life of Rummage Ira Fulks. Prior, during and after the Great American Depression. Large numbers of destitute people, men,women, and children trapped within an American Dark Age during which there were hobo-jungles, wandering people, and rides were stolen on freightrains.(Born on June 3, 1940, that period of American history was near its climax but our nations recovered in the most horrible way; a world war.)

Within the course of living, an odd thing may happen to American Men. One may stand in perfect harmony and think to himself."I need to be evil. I'm too gentle, and I won't be able to fight or kill a deer or hog. I've been too good to people." From out of the kitchen cabinet, in a secret place; under a pile of leaves or a hollow within a tree stump immerges a bottle of whiskey. Here comes Mr. Hyde as surely as gold with a shot-glass. A single shot of that golden or white liqid, and the eyes, prostrate glands, heart, stomach, and kidneys swell in contempt in preparation of the sensation it causes. After the shot, the adrenal gland puffs up as fist within the cranium. Says Mr. Hyde,"I'm a man again. I'm mean."

There was plenty of whiskey during my dad's time, and I, his son, can have a bottle within ten minutes but I can't drink it, and my dad abstained also. I have a natural disliking for its taste, and it burns as it goes down the main pipe and when it reaches the stomach. Dad said,"Son, I don't drink whiskey. I,ve seen the way people behave when they've had too much of it. Too much of it will kill anyone. My daddy drank himself to death. He was a really nice person when sober and all hell when drunk."

A portion of the entertaimen I received from Uncle Herbert Buford Fulks during my youth were his reinactments of army drill practice. There were salutes, come to attention, port arms, right and left shoulder arms, about face, and at ease. It's a sure thing that by time I had reached aged 10, I could have served as a drill sergeant at Fort Winky Pinky in the far north. Enlisting in 1962, I shut both eyes in preparation for a good nights sleep within the barracks of other raw recruits at Fort Jackson, South Carolina. Lights were out the giant in Jack and the Bean Stalk tromped through the barracks and scared me half to death. One recruit escaped that night, and I've always asked what happened to him.(The Army chow was excellent.)

It was 1939 in Kentucky, and Grandmother Carie and her husband Mandard had moved from Henry Jackson Fulks II's former farm in Lyon County, and Rummage Ira Fulks had moved his wife and children to an area not far from what is now Craven's Bay and near the Old Eddyville Ferry. Across a road from a large cemetary, my father had bought five acres and had constructed a very sturdy house there but it was difficult to heat in cold temperatures and uninsulated in both the interior and exterior.

Raising some hogs, poultry, and a single goose on the five acres, that was as much of farming as my dad wanted. "Farming is the hardest work that anyone can do." said my dad. "I just don't want to spend my life working that hard. The price of corn is 25 cents a bushel shelled. I could have a thousand acres and not make anything on it.

A long-time and loyal member of The Masonic Lodge at Eddy-Kuttawa and a confirmed Republican, my father had encountered some people who convinced him of the importance of learning to deal with with politically influencial people and how important it is to vote and remain loyal to ones party within the United States of America. In a narrow sense, I feel that Rummage Ira Fulks had entered into an oral contract to support those in political control during those times. It might be said that he was informed and politically educated. Dad was especially loyal and proud of Abraham Lincoln and his Kentucky origin. Lincoln himself was self-educated and had come-up the most difficult way..consistency and hard labor.Teaching me to love the games of football,baseball, boxing, and basketball, I never gained the size and stature to be and outstanding sportsman but I do admire all of the college teams; especially Notre Dame. They always seem to exemplify the highest of enthusiam and spirit with their teams but financially they were out of my class, and I attended a smaller but excellent smaller college.

Sisters Euphama, Dorcas, Betty Jean, and Alice Faye attended one room schools while residing near Eddyville, Kentucky. Walking one-half mile to the Old Eddyville Ferry and crossing the Cumberland River to a highschool in that city was necessary after completing grade eight. The youngest of my sisters, Alice Faye Fulks, was a second grader during that 1945 threshold and continued her attendance at a one-room school for as long as the Fulks family resided near present day Craven's Bay.(subject of a true ghost story posted as The Craven's Bay Ghost)

Both my dad and I were somewhat placed very early into the Secret Life of Walter Mitty sphere.Not a day passes that I'm not, for a time, a hero; a voyager on a spaceship, the final strikeout of the baseball World Series, the winning touchdown, and sometimes even Melissa Sue's escort in our luxurios Cadilac or Mercedes.. Not completely out of sports, Dad loved to hunt quail with his dog, and like I, he was sometimes lucky at sports fishing. Dad tried out for the Cardinals but could run the bases.

Employed as a correctional office on the night shift at Kentucky Pen near Eddyville for at least one year, the pay for Rummage Ira Fulks was $80 monthly, and he and another man owned and ran a musseling rig near the recently constructed Kentucky Dam. Mussel shells were worth $25 for a ton after the meat inside had been removed. Used as hog food, his swine remained obese by this manner. Soon their success at musseling declined to a degree that it was a task no longer profitable considering the time and difficulty involved.

"Rum," said Rex Holland, manager of Kentucky Woodland Wildlife Refuge, " the next governor of Kentucky will be a Democrat. All of you Republicans are going to be fired. You have a large family, and I,ll help you get on with the Fish and Wildlife Service. If you want to come down to the Refuge Headquarters, we'll fill out an application together. One man is retiring, and we need to replace him.

Remaining friends with Rex Holland, Bill Holland's son%